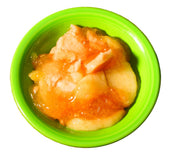 Good Old Days Apple Cobbler, 5 Pound -- 4 per case.
Good Old Days Cobbler Cobbler Ready-to-eat apple cobbler Made with high-quality fruit Individually quick frozen Not heated, thawed, or processed Keep frozen for later use 5 lb. (2.26 kg) each 4 packs per case The Good Old Days Apple Cobbler is made with the freshest and tastiest fruit with a signature crispy crust. This ready-to-eat apple cobbler is individually quick frozen and never heated, thawed, or processed. This bulk pack of this apple cobbler will be a great buy for restaurants, cafeterias, and diners. 2/5 Apple Cobbler Preparation instruction: Preheat over to 350 degrees. Remove plastic over-wrap and lid. Place frozen cobbler on a cookie sheet and place in center of oven. Bake approximately 60 to 75 minutes (or until crust is golden-brown). Convection oven, 325 degrees 45 to 60 minutes. Remove baked cobbler from oven on cookie sheet, never by the edges of the pan. Serve warm.2/5 Apple Cobbler
| | |
| --- | --- |
| Manufacturer: | Good Old Days Foods Inc |
| GTIN: | 20071833054373 |
| SKU: | 145608 |
Sign up to view additional product details and see reviews
Get served the rewards you deserve. It's free and easy to join.
Sign Up For Rewards
Already have an account? Sign In
Members near you purchased from:
Buy it now: